Celebration of Excellence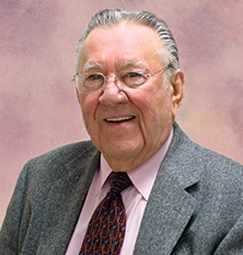 Russell Ingram
Salem, NH
"Russ Ingram not only gives his own time and money, but encourages others to do so as well. He is an inspiration to all."
When Russell Ingram retired after 37 years as a successful banker, he and his wife, Roberta wanted to give back to the community. His generosity, gifts of time, money, and passion has inspired others and has done immeasurable good in the lives of community residents.
His generous $500,000 donation enabled his hometown of Salem, NH, to build a much-needed senior center for the aging community. Another generous financial donation jump-started a project to build an annex to the library and Masonic Center in Colebrook. When the Salem Boys and Girls Club was struggling, Russ challenged individuals and companies to match his $10,000 donation. The campaign raised more than $30,000. Russ Ingram's commitment to community service includes public service. He is currently the Chairman of the Council on Aging Board, spent eight years as a State Representative in Concord, and served as Town Treasurer in Colebrook for 25 years.
Russ Ingram encourages volunteer work and philanthropy to get projects working without tax dollars. He is successful because of his ability to use his financial skills, leadership and compassion to bring people together to achieve a common goal.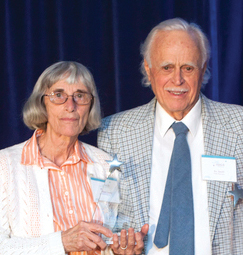 Barbara and Ira Smith
Acton, MA
"With the perspective of gratitude for their lives and blessings, Barbara and Ira have selflessly and modestly devoted themselves to improving the lives of others."
In 1990, when Barbara and Ira Smith learned of Salvadoran civil war refugees living in a bare home outside of Acton, they put an ad in their church bulletin requesting furniture and household goods from the congregation. While helping the family, they learned of others in similar situations, living in homes without the basic necessities.
Refusing to turn away from the need, they formed Household Goods Recycling of Massachusetts (HGRM), a volunteer-run, non-profit organization, providing furniture, appliances and other household basics, free of charge, to people in need. Each year, Barbara and Ira welcome people from over 150 communities, referred by 300 different human service agencies. Since 2004, the Smiths have helped more than 28,000 families, while also helping the planet by diverting hundreds of tons of useful furniture out of landfills every year. They have also developed a robust volunteer program; last year alone, 800 volunteers contributed more than 38,000 hours.
The Smiths' energy and stamina are inspirational. Now into their 80s, they both actively volunteer at HGRM six days a week. Through their humility, compassion, resourcefulness, faith, and unfailing sense of humor, Barbara and Ira Smith have selflessly and modestly devoted themselves to improving the lives of others.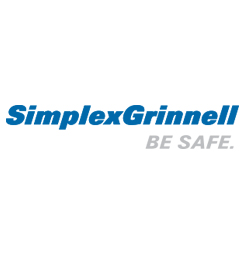 SimplexGrinnell
Westminster, MA
"Under our mission, we are committed to making the world a safer place. At the same time, we believe deeply in making the world a better place."
As a fire protection and life safety leader, making a difference in the community is core to the mission of SimplexGrinnell. Headquartered in Westminster, MA and part of Tyco Fire Protection Products, SimplexGrinnell strives to be a leader in every community it serves.
The company's commitment to community includes an annual company-wide fundraising campaign for United Way and United Way Youth Venture. Last year, Westminster employees led the way in helping raise over $150,000. SimplexGrinnell is also a major corporate sponsor of the United Way "Day of Caring" in North Central Massachusetts, an annual event where hundreds of volunteers assist area health and human service agencies with improvement and maintenance projects. In 2012 more than 100 SimplexGrinnell and Tyco Fire Protection Products employees donated their time to make the Day of Caring a success. SimplexGrinnell also supports an annual company-wide community involvement month, during which employees give back to their communities through activities from food bank donations to blood drives and river cleanups.
In addition to its being an industry-leading business, SimplexGrinnell is defined by the compassion and generosity that its employees demonstrate for each other, for people in need, and for their communities.