Celebration of Excellence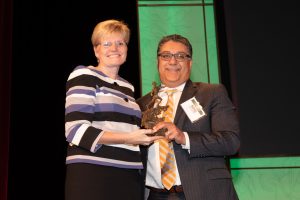 Ross Haghighat
Triton Systems
Ross Haghighat is a serial entrepreneur, and venture capitalist who has been a catalyst in the start-up of more than a dozen high-tech companies around the world, including Triton Systems in Chelmsford, Massachusetts, which he leads as Chairman and CEO. He has generated more than $4 billion in shareholder value and his ventures have impacted broad markets from telecommunications to cloud-based disease management, to waste water treatment, to industrial chemicals. Coming to this country as a young immigrant, he has overcome countless obstacles to pursue and achieve the American Dream. He is revered as a true visionary, developing tomorrow's solutions today. But beyond his achievements as a leader and innovator, he is a man of great humility, respecting those around him and giving back generously to his community and the world.
To see Ross's acceptance speech, click here: https://www.youtube.com/watch?v=w8eJJFblTOM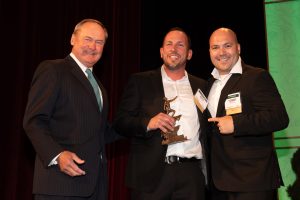 Thomas and Michael Bolduc
Optiline Enterprises
Thomas and Michael Bolduc are Canadian-born cousins who started from the ground up to create one of New England's most successful specialty construction companies. The company is a true team effort: while one oversees job sites, the other handles the office side of the business. Launched in 2006 with a few tools, two old trucks, and a small crew, they have become one of New Hampshire's fastest growing companies. Through hard work, determination, and perseverance, revenues have grown by 3,000 percent over the past five years. They now employ 250 people and annual sales last year topped $28 million, with a target of $50 million this year. They are good businessmen, but more importantly, they are good people: passionate about their employees, committed to their customers, and generous to their Nashua area community.
To see Tom & Mick's acceptance speech, click here: https://www.youtube.com/watch?v=VQyCQEq9Rdk