Celebration of Excellence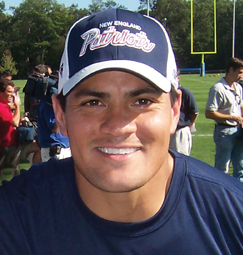 Tedy Bruschi
NFL Superstar and Stroke Survivor
Tedy Bruschi's life story is a lesson in the rewards of hard work, perseverance, and courage. A star linebacker and defensive leader on the New England Patriots' three-time Super Bowl championship team, he suffered a stroke at the age of 31, and willed his way back onto the football field.
A few days after playing in the Pro Bowl in February 2005, he awoke with a splitting headache, blurred vision, and numbness on his left side. Thinking the pain was a result of the regular beatings his body took on the football field, he decided to try to sleep it off. When he woke up again, his vision was fading—and though he could hear him, he was unable to see his five-year-old son, Tedy Jr., enter the room. Tedy's wife, Heidi, called 9-1-1, and admitted him to the hospital. The diagnosis: a stroke.
Bruschi initially feared that his football career was over. Physicians found a small hole in his heart, and theorized that it had played a role in causing the stroke. He had surgery to repair it, and was told that while it wouldn't guarantee that he would never have another stroke again, it would lessen the chances of it.
"I wasn't a football player anymore in my mind," he said. "I couldn't walk. I couldn't see. I felt devastated that my career was taken away from me. I was just trying to get back so that I could be a healthy husband and a healthy father that would be able to play with his children. Nobody would have blamed me if I had just rode off into the sunset."
But riding off into the sunset isn't Tedy's style—he's a fighter. He began the hard work of rehabilitation and recovery. His vision returned, and eight months later, in October 2005, he walked back onto the football field with the blessing of his wife, and of every doctor he consulted. He became the first NFL player to return to the field after a stroke, and shared the NFL's 2005 Comeback Player of the Year Award with Carolina's Steve Smith.
Bruschi got into football almost by accident, joining the team at California's Roseville High School only after some classmates urged him to give it a try. At 6' 1", he was smaller than most of his competitors, but he didn't let that stop him. He went on to the University of Arizona, where in four seasons, he tied the NCAA Division I-A record for career sacks (52). In 1996, the Patriots took him with the 25th pick in the third round of the NFL draft. He has been a team leader, serving as one of the team's captains, and anchor of the Patriots' defense ever since, and led them to win three Super Bowls in five years.
Now preparing to start his eleventh season with the Patriots, Bruschi has also become a spokesman for the American Stroke Association. To those who know him, his amazing comeback was no surprise. Tedy Bruschi has written the book Never Give Up, an inspiring story of his stroke, his recovery, and his remarkable return to football, written with Michael Holley, an American television and radio sports commentator and writer.